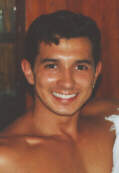 My ex-roommate, Alberto J. Arias, wanted me to put his picture on the net. So I did and here it is! He is now happily "married" and living downtown Chicago.

His final performance with Hubbard Street Dance Chicago was on August 31, 1996. I think Hubbard Street will never be the same!

He is now a freelance choreographer.